Welcome to Summer Marathon 2024
San Pellegrino Terme - St. Moritz - Livigno
Madonna di Campiglio - Val di Sole - Valcamonica
Tour of Alps
International Tourist Event for Historic Cars and Supercars.
---
Living the Summer Marathon goes beyond just sporting significance, encroaching on culture, history, food and wine, tourism. To make known and appreciated incomparable corners of the world, unique for their beauty, involving enthusiasts from all over the world. The event takes place at the beginning of June, in the period when the luxuriant nature, understood in the areas crossed, expresses its maximum splendor.

3 stages for a total of 661 kilometers. Transit through unique landscapes in the world.

70 cars accepted for the historic car grouping up to 1992.

20 cars accepted for the YoungTimer grouping from 1992 to 2010.

30 cars accepted for the Supercar grouping from 2011 to today.

27 Performances of Chronometric Skill (optional) on circuit and / or private reserved spaces.

3 Elegance Contest with a parade of cars in Livigno - Pellizzano - San Pellegrino Terme.

11 Alpine passes crossed that have made the history of motor racing in the past: Passo San Marco, Passo Maloja, Passo Bernina, Passo Forcola, Passo d'Eira, Passo Foscagno, Passo Stelvio, Passo Palade, Passo Carlo Magno, Passo Crocedomini e Passo Presolana.

Multiple Capitals of Tourism crossed including San Pellegrino Terme, St. Moritz, Livigno, Bormio, Merano, Dimaro, Val di Sole, Pellizzano, Madonna di Campiglio, Pinzolo, Borno.

High-level hospitality in the headquarters locations of each stage.

Food and wine tastings of typical local products, welcome drinks, coffee breaks along the way, as per program.

Certificate of participation to all arrivals.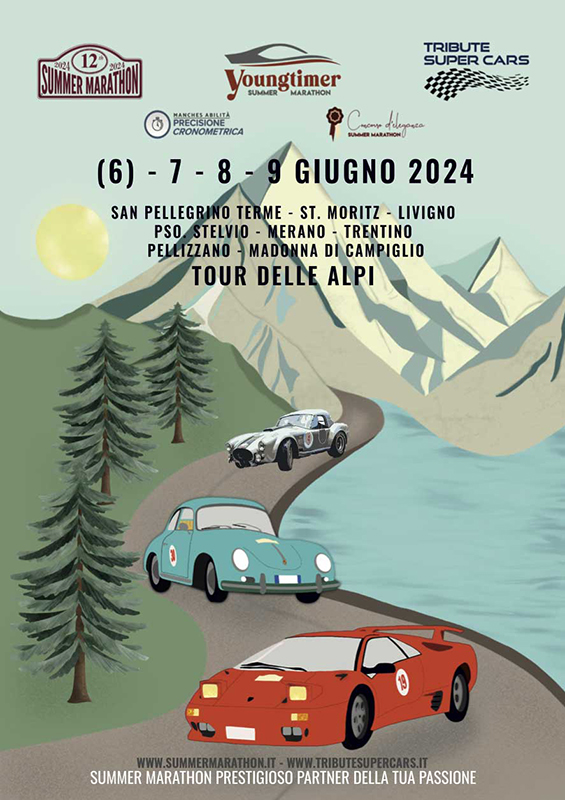 EVENT SUMMARY
Summary data of the event
---
3 Tappe
661 KM
15 TIME CONTROL
13 PASSAGE CONTROL
27 Performance Chronometric Skill
(Optional)
3 Elegance Contest
Livigno
Pellizzano
San Pellegrino Terme
Newsletter
Let's keep in touch! Join our newsletter!