Carefully analyzed the various regulations relating to international travel for the pandemic between nations of which our event has the largest influx of registered participants, it was evaluated despite everything being ready and organized: logistics, route, rehearsal times, gastronomic stops, partners, patronages , permits, advertising and promotion, of

POST THE NEXT EDITION TO THE
10 - 11 - 12 JUNE 2022
(subject to confirmation by the institutions).

The event will always include classic cars regularity races, modern super cars tributes, tourist following, contests of elegance, all always with an important denominator, the discovery of incomparable landscapes of the world in the period where nature expresses its maximum splendor, transit in highly attractive and exciting itineraries, combined with the tasting of typical local products, stays in hotels with high-level wellness centers. Four days immersed in the world of historic cars, a holiday appreciating your own car and the image of unique tourist areas in the world.

We are waiting for you,
The organizational STAFF.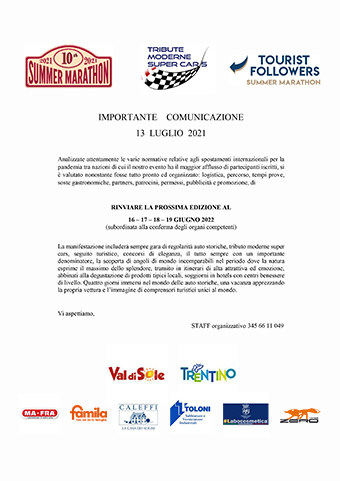 Newsletter
Let's keep in touch! Join our newsletter!